FAQs
Get answers to some frequently asked questions about Ceracell and beekeeping.
"How do I order?"
You can order online right now right here 24/7 using the shopping cart. Or from anywhere in New Zealand during normal business hours you can order by phone free of any toll charges using
0800 CERACELL (0800 237 223)
or in Auckland
09-274-7236
. Or you can order by emailing one of our friendly customer service representatives at
info@ceracell.co.nz.
To order online you can submit your order to us by using our shopping cart system. Acceptable payment methods are Credit Card or Bank Transfer. By entering your billing and shipping address yourself, you get to see that it's correctly entered and you instantly get an email receipt upon submitting an order to us. It's quick and very easy.
Easy Steps
Find the product(s) that you want to purchase.
Click the "Add to Cart" button. You will be given the option to remove products, and adjust quantities later.
When you're ready to submit your order, click the Cart link and then Checkout to enter the secure area of our website.
When you go through the checkout process, you are given the choice to ship or collect in store (in the message field please state a day and time you wish to collect). Please allow 48 hours for processing of orders prior to collecting, For urgent orders please contact us directly on 09-274-7236.
If your delivery address is rural, please select the rural delivery option in the shopping cart to avoid delays with your order.
Confirm your details and then submit your order.
Now you can print the receipt page.
You will also receive an e-mailed receipt within moments of finalising your order.
"What if I order larger quantities than what is stated?"
All prices are in NZ Dollars and exclude GST.
"Do you ship outside NZ?"
Absolutely! We can ship internationally, so please contact us directly at
info@ceracell.co.nz
to arrange international deliveries.
"When will my order be delivered?"
Ceracell will endeavour to deliver the goods to the delivery address as specified by the customer in an acceptable quality and in a timely matter. Please expect delays on orders during our busy season. We appreciate your patience at this hectic time of year with all the nation's beekeepers needing their supplies at the same time.
Once dispatched you should receive your order within 5 working days. Rural deliveries may take an extra 1-2 working days.
From time to time item/s on your order may be out of stock, in which case you will be notified either by email or phone, Please ensure your contact details are correct.
"I'm new to beekeeping what do you recommend?"
So you are keen on keeping bees! Fantastic! You are joining a growing number of people getting into a fascinating hobby, and helping these amazing and important creatures.
The basics of equipment and clothing that you will need to get started are:
A beehive, which usually consists of a base or floor, at least one brood box with frames on which the bees will build their comb, (later once your bee numbers grow, a second brood box with frames, and honey supers added as needed), a hive mat, sometimes called an inner cover or a crown board, and a lid or roof.
Tools to work the hive, the minimum being a smoker used to calm the bees and a hive tool, used to break the propolis (bee glue) that the bees use to fill cracks to keep out drafts and which we need to break open to get in the hive and work the frames.
Protective clothing, which is usually a full set of overalls, usually white, or a half jacket, then a veil, gloves and boots. Gum boots are absolutely fine.
A good book, such as 'Practical Beekeeping in New Zealand' to give guidance when you are unsure.
So that's what you need to get started--well of course you need bees too and we can point you in the right direction to source bees if you need that as well. If you already have some of this, great. We can supply the rest, and provide advice.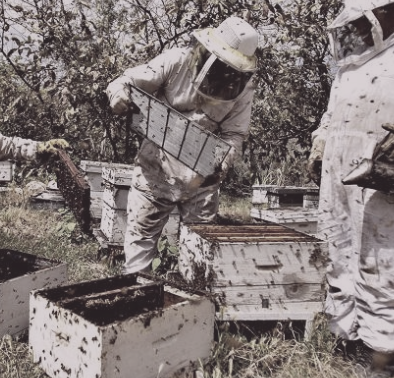 "What about courses?"
We can help you find a beginner beekeeping course close to where you live. And, we can direct you to an NCEA level 2 diploma in beekeeping if you are serious and maybe considering beekeeping as a career. Just call us and ask to speak to Bruce if you are interested.
If you can't find the answer to your question here or have more questions, please contact us on
info@ceracell.co.nz
and we will be happy to help.
"What payment methods can I use?"
Cash (for collection and in store purchase).
Eftpos.
Cheques: please note all cheque payments will require a valid photo ID, (driver's license, passport, or firearms license) for verification, and the goods will not be dispatched until the cheque clears.
PayPal
Credit card (Visa, Mastercard). Please note credit card payments via the website show up next working day. Payments on Saturday and Sunday are counted as being paid on Monday so will show up in our account on Tuesday. For urgent payment please us on 09 2747236
Bank transfer: our bank details are included in the checkout process and repeated here:
Ceracell Beekeeping Supplies (NZ) Ltd, Bank account number 02-0214-0181070-00
Please use your order number as a reference.
Please note Bank transfer payments via the website show up in our bank account usually within 1-2 working day.

Holy smokes!